Events!
Youth Open Mic 01/23/2121
Peace. I've been invited by Muslim Youth for Positive Impact (MYPI) to share some poetry at this event. This organization is all about empowering our Muslim youth, please visit their website HERE to learn more about the organization. If you are a youth or if you are the parent/caretaker of teens/youth that are into writing and are looking for an outlet to share their words and connect with other creatives, consider joining this event. You must register in order to have access to the link. Click HERE to register.
_________________________________________________________________________________________
Help Family Access Running Water 11/2020

Bismillah.
I am raising funds on behalf of a dear friend whose family is in vital need of running water. They currently live in South Africa and are a family of six (mother, father and 4 children), the newest edition is just 4 months old. Having access to running water would remove great difficulty from their daily lives. In the mother's words,"We are asking Allah, Mighty and Majestic, first, then you all for assistance for funds to acquirea borehole, pump and tank to have running water. Water is essential for all of mankind. After almost 3 years without running water, we are hoping for some ease."
What is a borehole?
A borehole is the generalized term for any narrow shaft bored into the ground. A borehole used as a water well is complted by installing a vertical pipe (casing) and well screen to keep the borehole from caving in. THis family would then have the borehole connected to their house so they can have running water inside their home. Others in their community would also benefit and have access to this pump as well.
All Monies Donated
In my attempt to contribute to this fundraiser, 100% of all purchases (excluding tax and shipping) made on my website for the duraction of this fundraiser (now through December 18th, 2020), will be donated in full to this campaign.
Please click HERE to be redirected to the Launchgood crowdfunding campaign to read more or to donate directly the campaign.
______________________________________________________________________________________________________
Black Love Mural Festival 06/2020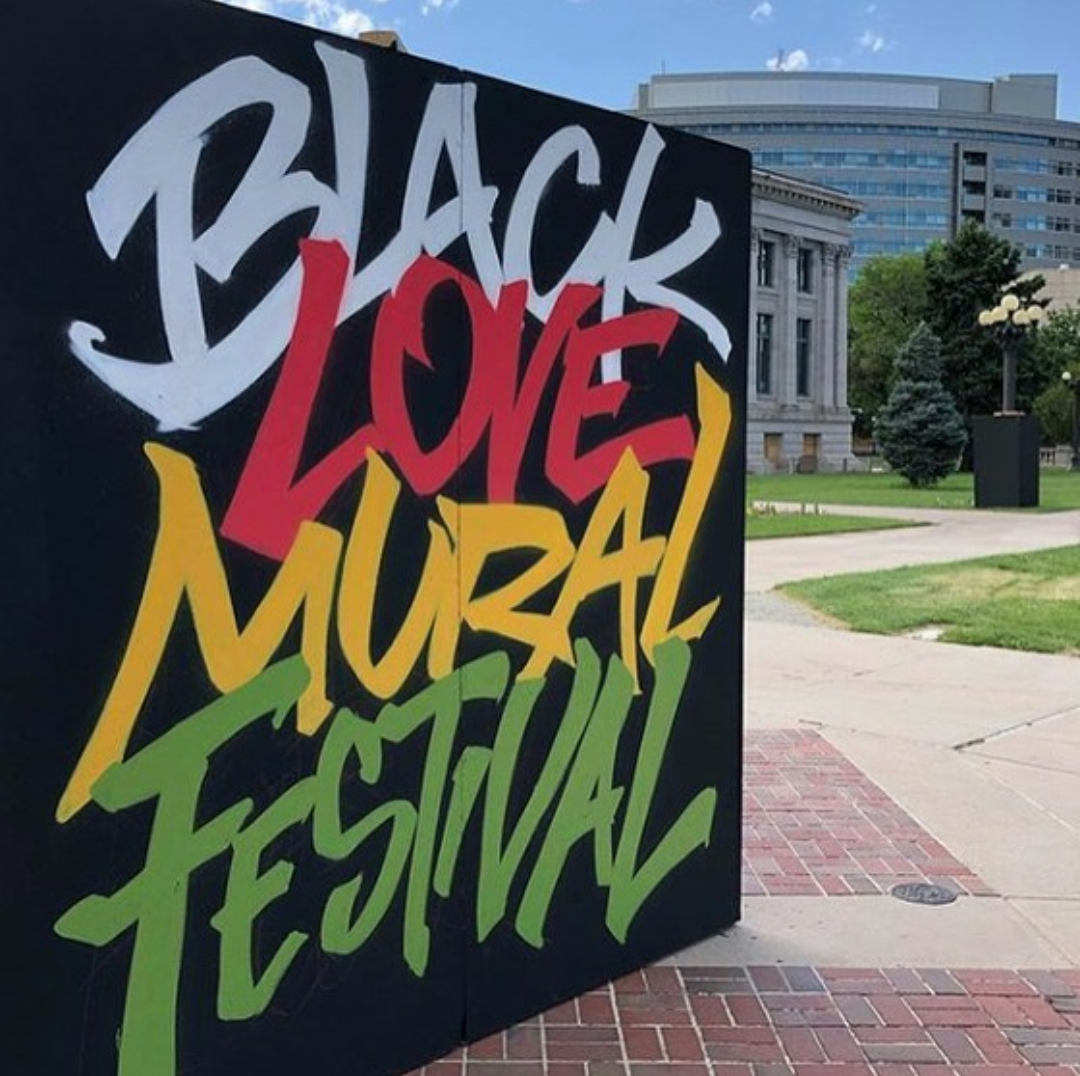 I was invited to be a part of the inaguaral Black Love Mural (BLM) Festival in Denver, Colorado. This festival is in response to the current political climate. The event is a collaboration between Rob the Art Museum, IRL Art and the City of Denver, that will host 20 Black artists, curated by Robert Gray, Creative Director.
The mural installations can be viewed from June 12th through June 30th at Civic Center Park in Downtown Denver.
Below is my completed mural for the festival.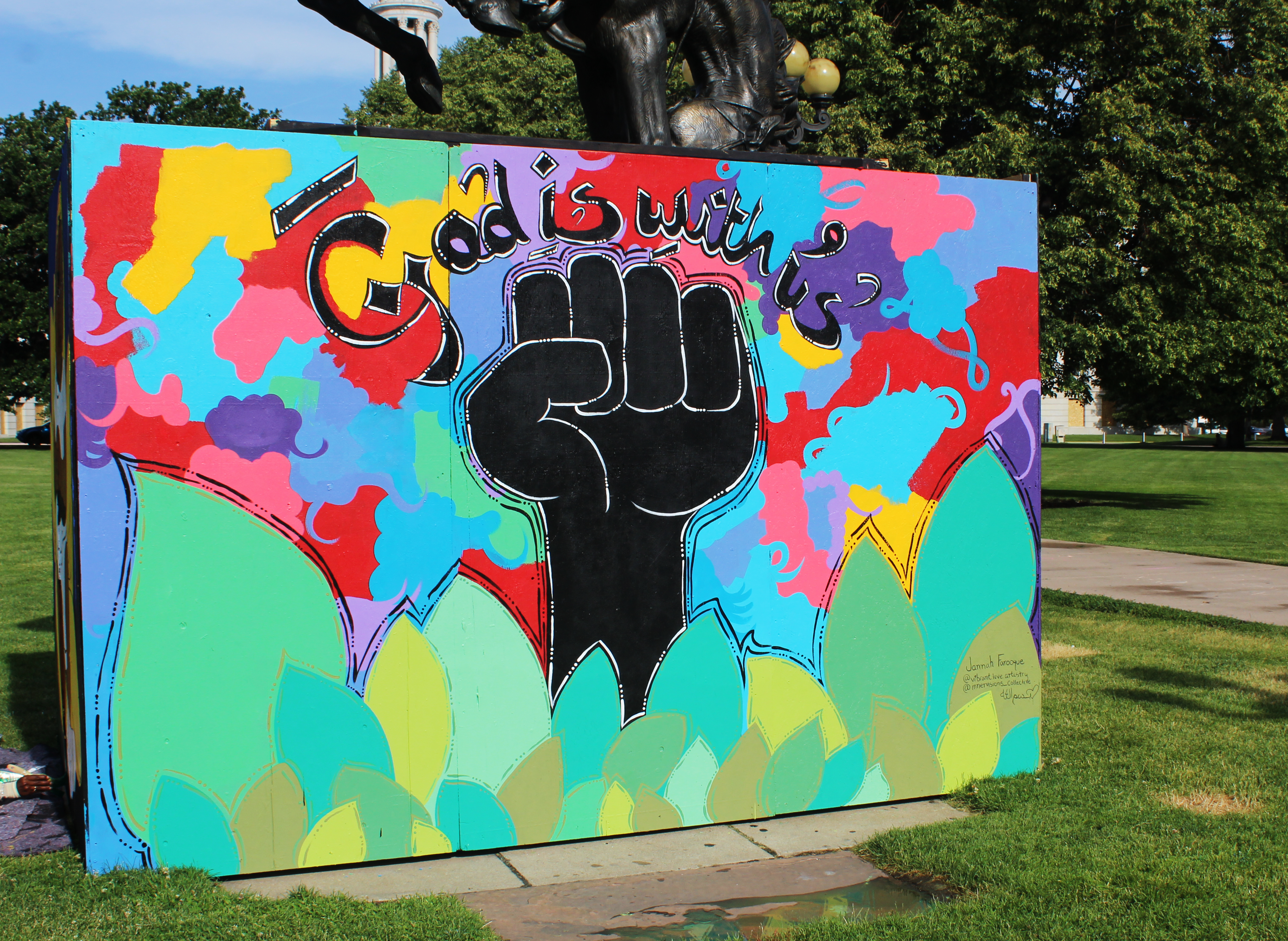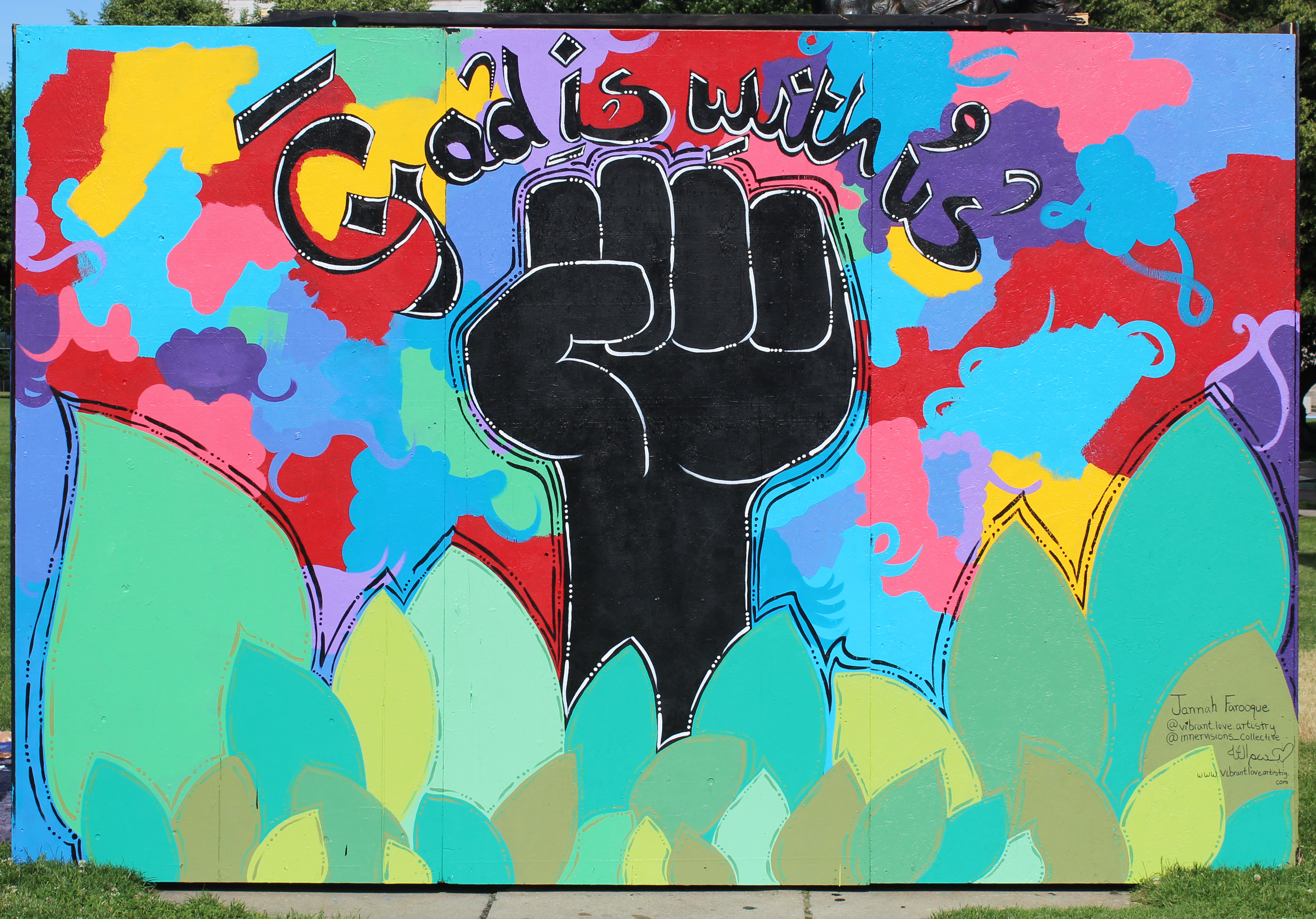 Full list of artists apart of the Black Love Mural Festival.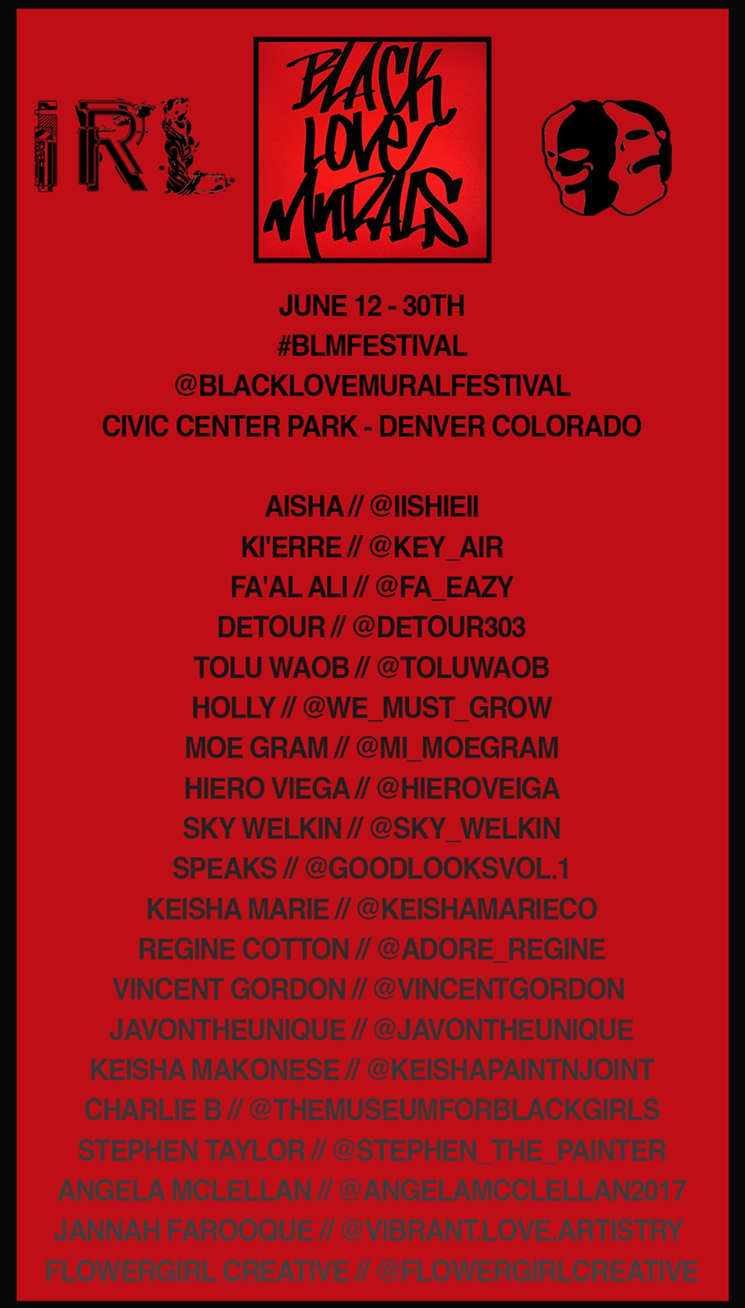 _____________________________________________________________________________________________
Facing Racism In Our Times 06/01/2020
Please join us for a critical discussion on the climate of racism in America, sparked by the recent extrajudicial killing of our brother Goerge Floyd, may God rest his soul. You can access the Facebook live video from the Colorado Imam Council's Facebook page.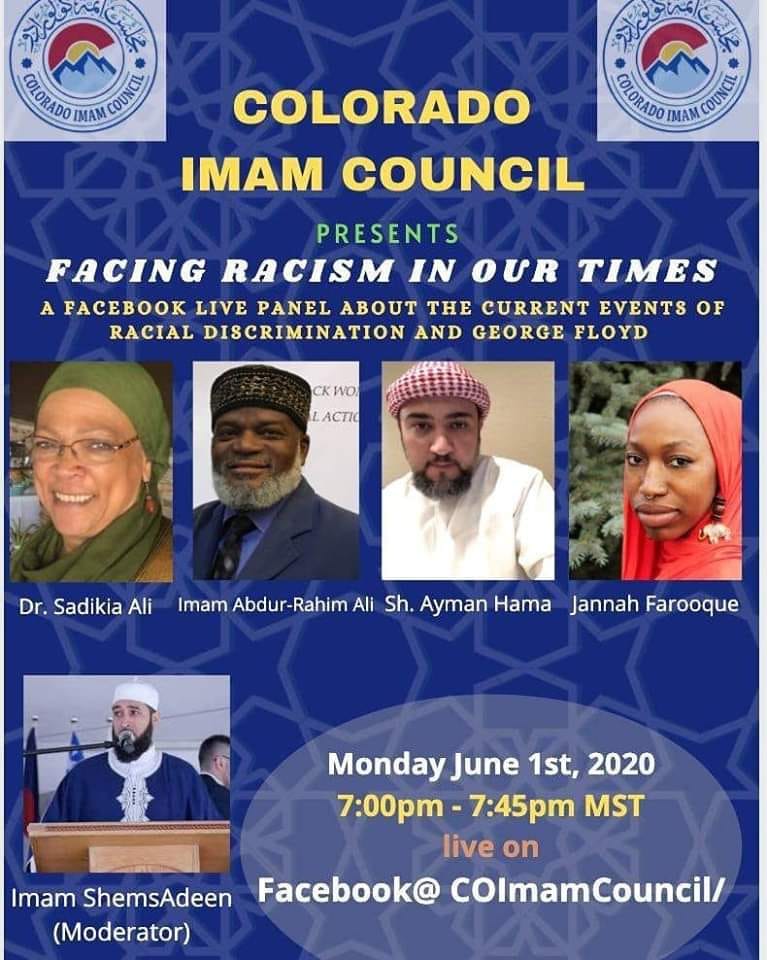 ____________________________________________________________________________________________
"Art is an inherent way of life to the women of the sun. it is woven under our feet and into our hair. mirrored onto our eyelids. shaped by water and palm. women know the story is told best in circle, in communion with our sisters. we created a motherboard to pay homage to the soil that birthed us." -Adi Tora (1/8 of the Innervisions Collective).

When: Saturday, October 12, 2019
Where: Blair Caldwell Library 2401 Welton St. Denver, CO 80205
Time: 2:00pm - 5:00pm
Join Denver's InnerVisions Arts Collective for 'ABOARD THE MOTHERBOARD' : an official launch and talk-back centered around their new #DenverUrbanArtsFund mural on Park Avenue West between Champa and Curtis on the side of community treasure, Akente Express. This will take place Saturday October 12th at the Blair Caldwell Library located at 2401 Welton St. Denver, CO 80205 from 2:00pm - 4:00pm ; at 4:00 pm we will walk to the mural. Ask us all the questions about her meaning, the process, followed by a reception and last but certainly not least, party with Innervisions New Orleans second line (but Denver) style by walking with us from the library at 4p.m. to the mural (about 2.5 blocks) and partying at the wall! Bring your instruments, whistles, drums, boom boxes, your families, your collectives, offerings to leave at the wall, wear your most fun attire and let's wake up the gentrified neighborhood with a real celebration solidifying The Motherboards new found place and space in the hood!! This is for all of us!!!! The Blair Caldwell African American Research Library is located at 2401 Welton Street, Denver Colorado 80205.

We'll also have light refreshments but B.ring Y.our O.wn S.poon if you love Mama Earth!
FOLLOW US ON THE GRAM AT @Innervisions_Collective

Mural is located on the side of Akente Express at 919 Park Avenue West, Denver CO 80205